Stephanie Miller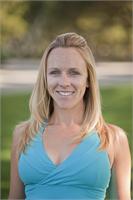 I am a certified Lagree Fitness instructor , a NASM certified personal trainer and Schwinn Cycling certified. I have worked as a personal trainer in Santa Barbara since 2008. I believe connection and communication are key to creating change in the body. My clients are enormously successful because we take the time to learn proper alignment and muscular recruitment during exercise. My workout is designed to balance and strengthen the body's functional motion so that clients are able to incorporate what they learn with me into their favorite everyday activities. I like to make exercise fun and encourage people to ask more from their minds and their bodies in each and every workout.
I am a girl on the move. A truly fantastic day for me would include exploring beautiful and scenic locations. I have hiked thousands of miles all over the world, led climbing expeditions up Mount Whitney and various peaks in the Montana wilderness, and ventured out on solo wilderness adventures including a recent pre-dawn summit of Yosemite's Half Dome to catch the sunrise at the top.
Stephanie Miller instructs the following:
This is a 45 minute full body workout on the Megaformer. The instructor will take you through a thoughtfully designed routine that will maximize fat burning, strength training and flexibility while also giving maximum cardio benefit. There will be a 5 minute cool down at the end.